A typical camp day...
---
7:30—9:00 Pre-Care
Camp opens early for those who register to have their campers dropped off prior to camp starting. Counselors are in early to play games and hangout with the campers while we wait for the day to kick off.
---

9:00—9:30 Opening Games
Get ready to run around, make noise and have a blast! We kick off our days with some run around fun, from dodgeball to Ships and Sailors we get everyone off to a fast start.
---

9:30-11:00 Morning Rotation
In the morning the campers take part in a rotation of activities with their small groups:
BIBLE TIME - We have a theme or topic for each week's lesson series, trying to help the campers shed some light on God and how He can help them in their lives. (Proverbs 1:7 "The fear of the Lord is the beginning of knowledge, but fools despise wisdom and instruction.")

WORSHIP TIME - The whole camp gathers together as we sing songs and make a joyful noise! Some weeks we even get a full worship band to run worship time! (Psalm 100:1-2 "Shout for joy to the Lord, all the Earth. Worship the Lord with gladness; come before Him with joyful songs.")

SMALL GROUP TIME - The small groups meet to talk about the lesson, answer any questions they might have, and to help each other grow. (Proverbs 27:17 "As iron sharpens iron, so one person sharpens another.")
---
11:00-11:30 Lunch Time
Campers bring their own lunches, and the whole camp eats together. Any allergies are brought to the attention of the staff so they are aware and can take any needed precautions.
---

11:30-4:00 Afternoon Activities
ON-SITE DAYS

These days we stay at BRC and do a variety of weird, exciting, and very fun activities. Our daily theme can range from Game Show Day and Movie Shoot Day, to Tribal Wars and Cardboard Wars. No two on-site days are the same, so there's always something different going on.

OFF-SITE DAYS

Twice each week we go off-site and visit another location to do things that we can't necessarily do at BRC. This can range from laser tag and bowling, to ice skating and mini golf. Every Friday we either hit up a local park for some ultimate frisbee and sporty games, or we hit up the beach for some fun in the sand and sun.
EXTENDED DAYS

Once per week we have an extended day. The extended day is a big trip where we hit up a location that calls for more time. The pick-up time will always be announced at the beginning of each week. We typically visit Lake Compounce, Brownstone Park, and Six Flags New England twice each during the summer, with each day getting some extra time for added fun!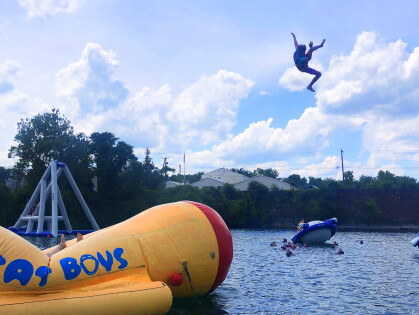 ---
4:00-4:15 Parent Pick-Up
---
4:00-5:30 Post-Care
After camp care is available for those who register and need the extra time to pick-up their camper. Select counselors stay with the kids to play games and make sure everyone is safe until they are picked up.